Details

Written by Max Blumenthal

Max Blumenthal

Published: 31 October 2013

31 October 2013
On October 1st, New York Times bestselling author and journalist Max Blumenthal released his latest book, Goliath: Life and Loathing in Greater Israel. To purchase the book, click here.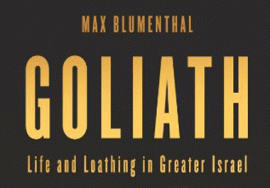 Goliath, according to Adam Hochschild, is "brash, gritty, personal and close to the ground...a report from an Israel and a Palestine we seldom see in the mainstream media." Blumenthal takes us on a journey through the badlands and high roads of Israel-Palestine, painting a startling portrait of Israeli society under the siege of increasingly authoritarian politics as the occupation of the Palestinians deepens. The book is already receiving significant attention and has been positively reviewed by Kirkus Reviews: "A rich, roiling examination of 'the State of Israel during a period of deepening political and societal crisis' ... Blumenthal is an enterprising reporter."
In an article for Al-Monitor, Akiva Eldar — a former chief political columnist and editorial writer for the Israeli newspaper Haaretz, where he worked for 35 years — writes,
Unlike most Jews — American or Israeli — Blumenthal chose to leave his comfort zone, go into disputed territory and examine the burning questions for himself. In fact, Blumenthal's greatest strength and interest is in events on the ground and the people who live there, far from the 'peace process' and diplomatic salons.



Blumenthal immerses himself like few other journalists inside the world of hardline political leaders and movements. As he reveals, Israel has become a country where right-wing leaders like Avigdor Lieberman and Bibi Netanyahu are sacrificing democracy on the altar of their power politics; where the loyal opposition largely and passively stands aside and watches the organized assault on civil liberties; and where mob violence targets Palestinians and African asylum seekers scapegoated by leading government officials as "demographic threats."

Through his far-ranging travels, Blumenthal illuminates the present by uncovering the ghosts of the past — the histories of Palestinian neighborhoods and villages now gone and forgotten; how that history has set the stage for the current crisis of Israeli society; and how the Holocaust has been turned into justification for occupation.
Max Blumenthal is an award-winning journalist whose articles and video documentaries have appeared in the New York Times, Los Angeles Times, the Daily Beast, The Nation, the Guardian, Al Jazeera English, and many other publications. His book, Republican Gomorrah: Inside The Movement That Shattered The Party (Nation Books, 2010) was a New York Times and Los Angeles Times bestseller.
Rashid Khalidi, the Edward Said Professor of Modern Arab Studies at Columbia University, says, "Blumenthal's book is packed with remarkable vignettes illustrating the dangerous path Israel is currently following." Charles Glass, a world renowned author and the ABC News chief Middle East correspondent from 1983–93, says, "It is about time someone wrote this book. Anyone who thinks he knows what is happening in Israel and its occupied territories will think again after reading this great work."
You can read exclusive excerpts from the book at the Nation, AlterNet, Salon, and TomDispatch.
For more information about the book, click here.